Corporate Social Responsibility
Environmental Initiatives
Basic Environmental Protection Policy
Philosophy
All companies in the Mitsubishi Pencil Group will contribute to environmental preservation to realize the enrichment of society by placing top priority on pursuing corporate activities in harmony with the global environment.
Guideline
We strive to contribute to society through the development of products with sufficient consideration of the importance of environmental preservation.
We endeavor to protect the global environment by increasing the recycling of resources and conserving resources and energy throughout our corporate activities.
We work to reduce use and emissions of harmful chemicals in products and during manufacturing processes to minimize environmental impacts.
We create in-house systems to promote environmental preservation, and make every employee aware of our environmental policies and rules and act consistently with the policies and rules.
Social Contributions
KidZania
Mitsubishi Pencil is an official sponsor of KidZania Tokyo and KidZania Koshien.
KidZania is an interactive theme park designed under the concept of "edutainment" combining education and entertainment to provide vocational and social experiences to children. Through a range of exciting careers and fun activities for kids to experience at pavilions provided by real-world companies, children are encouraged to learn about professions they may pursue in the future and their roles in society while KidZania fosters socialization and independence.
Pencil Factory at KidZania Tokyo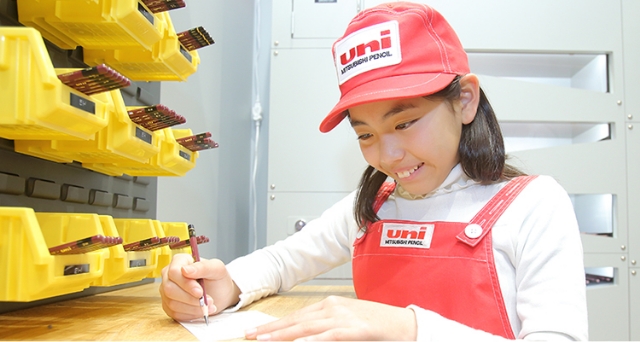 Working in our pencil factory, children learn the process of manufacturing pencils and are responsible for operating a machine to make their own pencils.
They will also learn about different types of pencils, their purposes, and how they are used. Children can try pencils of 22 different degrees of hardness, from 10H to 10B.
Pen Shop at KidZania Koshien
After learning about the ballpoint pen mechanism, children can choose a pen design and ink colors and assemble their own tricolor pen from parts.
This is a great gift for friends and family members or a great souvenir for themselves.
Investment in JICA bonds
Mitsubishi Pencil invests in social bonds issued by the Japan International Cooperation Agency (JICA) as part of its initiatives to contribute to society through asset management. Social bonds are debt securities by which the funds raised are used for projects that contribute to solutions to social issues. The funds invested in JICA bonds are used to finance projects with positive social outcomes in developing countries.